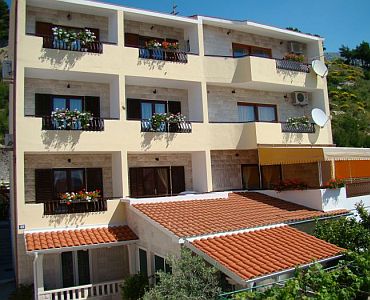 Villa SUNCE is situated in central Dalmatia in a place Duce-Luka which is between town of Split and town of Omis on the Adriatic Highway. It is approximately 18 km far away from Split on the way to Makarska and only 2 km far from Omis. Directly opposite is the island of Brac.
Due to its unique position and beautiful sandy beaches with long shallows, the small place Duce represents a natural phenomenon and one of the most important tourist destinations on the entire coast of Central Dalmatia.
Only 3 kilometers away from Duce you can find the small medieval town of Omis, situated right under a ring of impressive mountain cliffs, at the very place where the river Cetina enters the Adriatic Sea.
Some 20 kilometers away in the other direction the ancient, 1700 year old town of Split is situated.
GPS coordinates: 43.44220098356312, 16.65204405784607

How to reach us?
BY PLANE
Daily flights to Split airport from all major towns / cities.
BY SHIP
Daily arrivals to Split from Rijeka, Trst, Ancona. Ferry info and schedule you can check at Jadrolinija.
BY BUS
Daily routes to Split from all major town / cities. Bus info and schedule you can check at site of Autobusni kolodvor Split.
BY CAR
Most of our visitors came here by own automobile. It is good (and wise too ;-) to check traffic and road conditions at HAK (Croatian auto club) site. For reaching Duce you can use following routes:
A1 highway: Zagreb – Dugopolje –Split – Dugi Rat - Duce.
Adriatic Highway: Rijeka - Senj - Zadar - Šibenik - Split – Dugi Rat - Duce.
Inland route: Salzburg - Villach - Karavanke tunel - Ljubljana - Zagreb - Karlovac - Plitvička jezera - Sinj - Split – Dugi Rat - Duce.